Prindle Pond Conference Center:
Located on 500 lovely wooded acres on the shore of Prindle Pond in Charlton, Massachusetts, Prindle Pond Conference Center offers clean, comfortable accommodations and ample space for classes, jams, concerts, and vendors.  The Center is fully handicapped accessible.
The dining hall specializes in healthful, tasty meals.  (Note: the Registration Form for Camp invites you to choose vegetarian, vegan, or gluten free options, or indicate other dietary restrictions. Please complete this in detail.)
The Center has two campuses: Hilltop and Pondside.  (See map of the campus, below.)  Housing and classes will be on both campuses, which are just a short walk apart.  Most rooms have two bunk beds, but campers will be lodged only in the lower bunks.  However, if you are in a group of three or four who would like to room together, you are welcome to use the uppers.  Rooms on the Hilltop campus have private baths.
The Conference Center does not provide any linens — you must provide your own — so please be sure to bring towels, sheets, pillows, and a blanket or sleeping bag with you. (Note: We will purchase linens for people who are flying in, so please let us know). The buildings are heated, but we recommend bringing an extra blanket or two. (See Suggested Packing List)
Local accommodations are available in nearby Sturbridge and the surrounding area for those who want to bring the family or just prefer more privacy. A good place to start looking is www.sturbridge.com
RVs are welcome, but there are no electrical hook-ups, water or waste facilities on site. You may use a nearby dorm for bathroom and shower needs. There are several local campgrounds, including Wells State Park.  Just Google "Sturbridge area campgrounds" for options.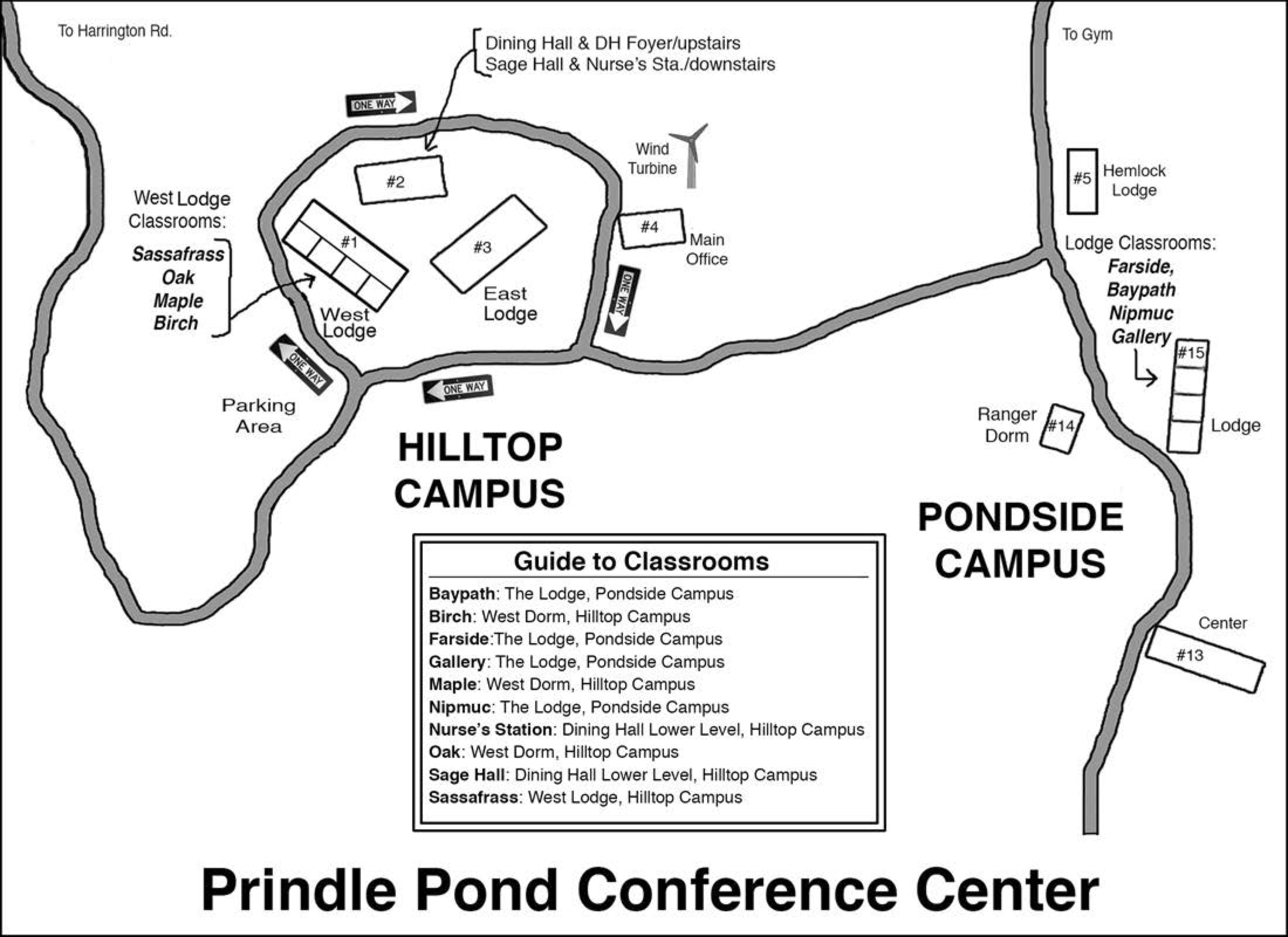 Directions to Camp (Prindle Pond Conference Center):
From Sturbridge and the West, near the junctions of I-84 and I-90 (Mass Pike):
Take Route 20 East for approximately 7 miles. Turn right onto Route 169, then follow the directions below.
From Auburn and the East, near the junctions of I-90 (Mass Pike) , I-290, I-395 or Route 12:
Take Route 20 West for approximately 10 miles. Turn left onto Route 169, then follow the directions below.
From both directions:
Take Route 169 for three and a quarter miles to Brookside Road (the third left turn).  Turn left onto Brookside Road and go to the end of the road.  Turn left onto Harrington Road.  Go one mile, then take a right into Prindle Pond Conference Center.  This will put you on the Hilltop Campus, where registration and the dining hall are located.
The Center's phone number is (508) 248-4737.