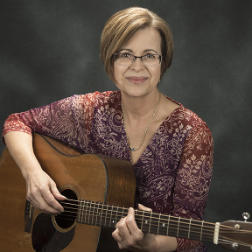 Betsy Rome is well-known for her flatpicked guitar, blending bluegrass,
old-time, Celtic, & swing infuences. Noted for her rock-solid rhythm and
inventive leads, she has won or placed in numerous band and instrumental
contests. Betsy teaches guitar and mandolin, both in person and online
via Skype. She has taught workshops at Grey Fox, Joe Val, Music Camp
North, Podunk, Winter Village, Thomas Point Beach festivals, Marist
College, and Ashokan Flatpicking Camp.
A founding member of Too Blue, one of the Northeast's most respected
bands, Betsy is also an occasional member of The Bluegrass Characters,
and plays mandolin in the Walkingwood Mandolin Quartet. "Betsy plays
with a direct, highly effective approach…Everything about her playing
is catchy and infectious, the sign of a total pro." – Dan Miller,
Flatpicking Guitar Magazine feature article.