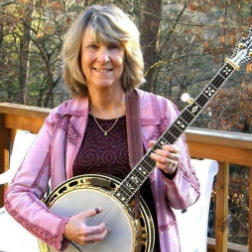 Janet Davis is aptly described as a "banjo icon", a musician of profound
influence as teacher, businesswoman, and enthusiastic promoter of the
five-string banjo for nearly 50 years. She writes a monthly column on
Scruggs-Style picking for Banjo NewsLetter and, with her husband Jim,
built a company, Janet Davis Music, that was, from 1977 until 2017, the
go-to place for fine instruments, parts, and instructional materials.
She's produced over 100 instructional books, DVDs, and, CDs,
inspiring generations of pickers world-wide to appreciate and
participate in the music of the banjo. Though she and Jim have nominally
been retired since 2012, she continues to distribute her publications on
line, enjoy learning and playing and transcribing all sorts of music for
the banjo, and teach at music camps. In 2019 she was inducted into the
Hall of Fame at the American Banjo Museum in Oklahoma City.