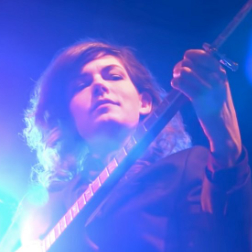 Michigan's Grace van't Hof discovered the banjo in high school when she built a five-string prototype that won second place in a statewide science olympiad. Inspired by her classical music background and artists from Charlie Poole to Puccini, her banjo, ukulele, and accordion playing proffer equal parts rhythm and ornamentation to projects of varied musical genres, though she has never strayed far from the blood harmonies of groups like the Louvin Brothers and the Boswell Sisters.
A founding member of both the Grammy-nominated group Della Mae, and the internationally known oldtime group Bill and the Belles, van't Hof's career has taken her around the world. In addition to performances with Sinner Friends, she also tours the U.S. and beyond with the bluegrass group Chris Jones & the Night Drivers.
Now allied as Sinner Friends with fellow country-duet fanatic Conner Steven Vlietstra, Grace seeks to explore, map, and poke holes in the varied and complicated roles of men and women in early country, bluegrass gospel and old-time music.