Phil Zimmerman
Phil Zimmerman, the heart and soul of Music Camps North, died peacefully at home on Friday, April 16, 2021, after a battle with cancer. Phil was a devoted husband, father, and brother, consummate mandolin and banjo player and singer, nationally known music photographer, an encyclopedia of knowledge of bluegrass and related music, and much more.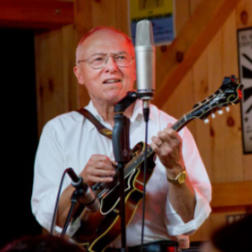 At the camps, Phil did everything at one time or another. In 2002 he showed up as a camper because he wanted to see Mike Seeger. A year later he was on the faculty. A few years after that he was appointed music director under Mike Holmes, and after Mike died Phil and his wife, Marcia Goodman, were doing basically everything to keep the camps running. When the decision was made to turn the camps into a non-profit corporation, Phil was the first president, and he and Marcia handled the entire transition, including the mountain of legal and tax-related paperwork required by the IRS for non-profit status. It's no exaggeration to say that Phil and Marcia saved the camps from going extinct.
Please visit Phil's Facebook page where you can post a remembrance.
Fall Jam Weekend, September 24-26
We're not holding our regular spring camps in 2021, but we are planning a fun weekend of jamming for all string instruments September 24-26, 2021 at our regular location! Registration will open in late spring or early summer – we'll keep you posted her and on social media. Space will be limited, but we'll have some of your favorite teachers, workshops, and plenty of picking. All rooms will be singles by default — we're hoping folks want to and will buddy up with friends or family. We'll also have RV hookups and camping, and there are a number of local hotels in the area. Stay tuned!
Also, the dates for the 2022 camps are out! Make plans to join us as we get back to our regular schedule:
Mandolin Camp North, April 22-24, 2022
Banjo Camp North, May 13-15, 2022
Have a question? Contact us.