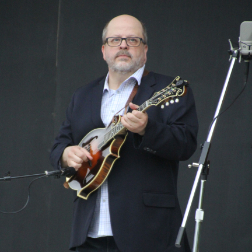 Billy "BT" Thibodeau boasts an undeniable bluegrass pedigree and he
brings his high tenor and lead vocals, along with his fastidious mandolin
and splendiferous guitar playing to Rock Hearts. A multi-instrumentalist,
Billy has been picking and singing bluegrass for several decades. Cutting
his teeth with his Dad, Sam Tidwell and Uncle Bob in the Kennebec Valley
Boys, he would later lead his own band, The Bill Thibodeau Band. He has
also played with the Descendants of Bluegrass, Bluegrass Supply
Company, and Union River Band, just to name a few. A member of the
IBMA Leadership class of 2017, Billy currently teaches music and works at
Rick's Music in Cumberland, RI. He lives in Cumberland, RI.