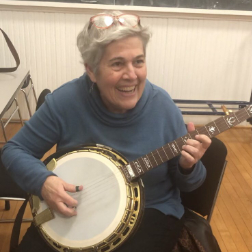 Murphy Hicks Henry, from Winchester, Virginia, has been playing and teaching bluegrass banjo for over forty years. She is the developer of the Murphy Method, a line of "by ear" instructional DVDs for bluegrass music, and is one of three women featured in the book "Masters of the 5-String Banjo." For over twenty years she wrote the monthly column "On the Road" for Banjo Newsletter, and she published her own quarterly newsletter, Women in Bluegrass, for eight years. She has been writing the monthly "General Store" column for Bluegrass Unlimited since 1987. She is the author of "Pretty Good for a Girl: Women in Bluegrass" (University of Illinois Press), and is currently working on a biography of Maybelle Carter.
Murphy served on the International Bluegrass Music Association Board of Directors for four years and received the IBMA Print Media Personality of the Year award in 1997, and the Distinguished Achievement Award in 2015. She earned her Master's Degree in Women's Studies from George Mason University in 1999. She was the Guest Artist at Augusta Heritage Bluegrass Week in Elkins, WV, in 2014.
Murphy has been married for 46 years to mandolin player Red Henry. For years she and Red made their living playing music in the band Red and Murphy and Company. When their two children, Casey and Christopher, joined them the band became Red and Murphy and Their Excellent Children. The group recorded six LPs and numerous CDs and cassettes which feature many of Murphy's original songs, including the feminist bluegrass anthem "Ain't Domesticated Yet." Casey and Christopher are now well-known bluegrass musicians in their own right. Casey has taught at Banjo Camp North and Christopher plays with Peter Rowan. Casey and Murphy now run their own Murphy Method banjo camps twice a year in Winchester. These camps include a Women's Banjo Camp in July.
Her latest musical offering is titled "When My Momma Sang To Me: Songs of Murphy Hicks Henry," which features 23 of her original songs performed by over 30 women in bluegrass including Rhonda Vincent, A.J. Lee, and Alice Gerrard. This was surprise birthday present in 2002 from her son Christopher. She was definitely surprised!