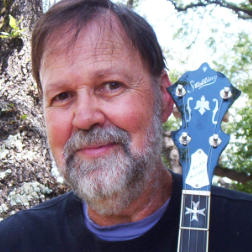 Alan Munde was born in Norman, Oklahoma and began his bluegrass banjo musical career while attending the University of Oklahoma. He and fellow student Byron Berline, fiddler extraordinaire, spent much of their time away from classes traveling around to various fiddle contests and musical events honing their performance skills.
After graduating he moved to Kentucky and recorded with Sam Bush and Wayne Stewart on the legendary and groundbreaking album Poor Richard's Almanac. Moving to Nashville, Tennessee in late 1969 Alan was hired by Jimmy Martin to fill the banjo seat in his Sunny Mountain Boys bluegrass ensemble.
In 1972 Alan left Nahsville and rejoined his musical schoolmate Byron Berline as he and Roger Bush formed the seminal bluegrass band Country Gazette. The Gazette traveled extensively making regular tours to Europe and Japan for several years. The Gazette, with many personnel changes over its thirty-five year run, has recorded over 30 albums and CDs and is still a touring with mandolin player Billy Bright and recording under the banner The Bright Munde Quartet. Alan has also released many highly acclaimed banjo instrumental albums beginning with Banjo Sandwich to the most recent release on Munde's Child Records of Bright Munde.
During his career Alan also spent much time developing bluegrass banjo workshop/seminar materials and presentations that have become a mainstay of the summer music camp scene. Munde was one of the first high-profile players to make his recorded solos available in written form and also one of the first artists to present workshops. He has made available much of his musical output available through instructional material for Mel Bay Publications, Texas Music and Video, and through self-produced material.
In 1986 he joined the faculty at South Plains College in Levelland, Texas, teaching bluegrass and creating several publications including Getting Into Bluegrass Banjo. Today he's retired from teaching and continues performing, teaching and recording. He also runs an on-line business, Al Munde's Banjo College, which sells his instructional books, DVDs, his bluegrass banjo recordings, and downloadable lessons.