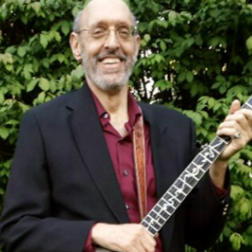 Bob Altschuler has played banjo for 48 years and currently performs and
records with multiple bands. An in-demand teacher since the early 1970s,
Bob has been on the BCN faculty since 2003. He teaches at Pete Wernick's
Silver Bay Bluegrass Camp, leads Wernick Method jam classes, offers
workshops and has many private students. With more than 100 online banjo
instruction articles, he has also been published in "Banjo NewsLetter"
and was showcased in the May 2011 issue. Gene Senyak's 2008 book, "Banjo
Camp!," includes a chapter about one of Bob's workshops. His playing has
been heard on National Public Radio and radio and TV commercials. Bob is
a 2012 graduate of the International Bluegrass Music Association
Leadership Bluegrass Class in Nashville.