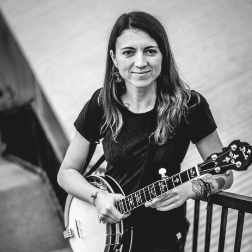 Twice nominated for the International Bluegrass Music Association's
Banjo Player of the Year award, Gina began touring up and down the east coast
in her tween years with her siblings, earning countless ribbons from
fiddlers conventions, a strong reputation in the regional bluegrass
scene, and a stamp from Bluegrass Today as "absurdly talented". She
developed international recognition with her four years playing for
Chris Jones and the Night Drivers, and now fronts her own band, "The
Gina Furtado Project". She is a Mountain Home recording artist and has
released two albums with them, revealing what the Bluegrass Situation
declares to be "swift and graceful picking and a graceful singer and
insightful songwriter." Gina was featured on the cover of Banjo
NewsLetter in the December 2017 issue, along with her original tune
"Saylor's Creek". She is highly sought after as an instructor at music
camps across the United States and as for private banjo lessons.