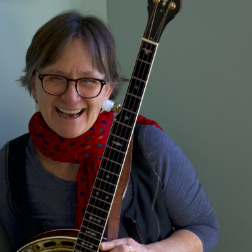 Born to a jazz-trumpeting dad and a Baroque harpsichord-playing mom,
Gretchen first became captivated by the bullfroggy syncopation of the
banjo after hearing Wade Ward perform June Apple. Although clawhammer
style was her first love, Gretchen plays primarily bluegrass and swing.
Her banjo playing has been called sparkling and inventive, and her
chordally based soloing style on swing tunes has become her hallmark
sound. Gretchen has recently begun experimenting with bossa nova on
banjo, and she giddily enjoys her role as bass player for the Steely Dan
tribute band "The Boston Rag." Mostly though, you can catch her with
Boston-area band "the Bagboys," who perform their Brand-New Old-Time
Songs all over New England. By the light of day, Gretchen is a middle
school Spanish teacher, and as such, her teaching style is firmly hands
on. Bring your instrument and be prepared to practice the content of
each workshop right then and there. While she freely admits that she
learns mostly by ear, Gretchen gives handouts and likes to employ
overheads and audio when possible. She believes that music is a
conversation, that all of us are learning, and that we all have a unique
voice to share.