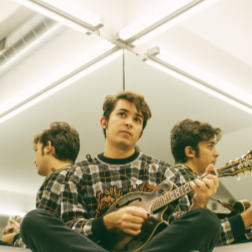 With a signature raw mandolin groove, bold fashion sense, charismatic
yet soft spoken confidence, and keen sensitivity to style and artistic
innovation, twenty-four-year-old mandolinist Tristan Scroggins is
quickly becoming a highly influential voice of both music and community
in the world of bluegrass. An old soul with the drive and curiosity of a
young person, Tristan holds a strong belief in learning the history of
bluegrass as well as creating an open and inclusive space for the music
moving forward. He is now making his home in Nashville, Tennessee where
he has become a part of the burgeoning bluegrass and acoustic scene and
can be found performing, researching, and writing about music. Years of
studying traditional mandolin techniques have led him to develop his own
crosspicking style, inspired in part by the Jesse McReynolds style and
yet enough his own to lead hardline bluegrassers to proclaim it "not
really crosspicking". In 2019, he released a collection of bluegrass
standards reimagined in his uniquely developed mandolin style entitled
"Fancy Boy". Tristan has taught at camps for nearly a decade on the
philosophy that camps should be an inspiring experience that motivates
students to make music more a part of their everyday life. Through both
ear training and tab support, Tristan enjoys helping new people discover
the joy of the mandolin as well as helping experienced players find the
lyricism and rhythm of the instrument.