April 17th, 18th and 19th, 2015
Mike Kropp, Director
Martin Grosswendt, Associate Director,
Old Time Music Director
Phil Zimmerman, Bluegrass Music Director
Lorraine Hammond, Beginner's Track Coordinator
Founded by Mike Holmes, 2001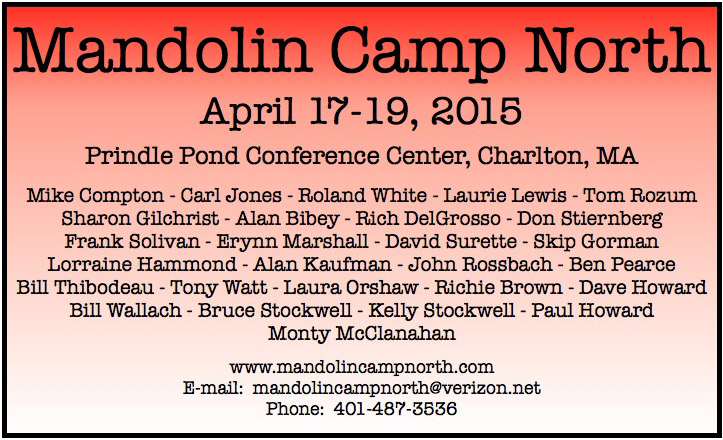 Welcome to the web home of Mandolin Camp North!  We're glad you stopped by.  We hope the pages on this site will give you all the information you need to get you to MCN and help you make the most of it while you're there. When you're ready, you can follow the links at the bottom of this page to register online or to download a printable PDF of the registration form.
Mandolin Camp North is a three-day celebration of the mandolin, featuring instruction, demonstrations, concerts, and jamming presented by some of the best and best-known mandolinists on the planet.  They provide in-depth instruction in Bluegrass, Old Time, Blues, and Jazz/Swing styles.  We always have top-flight fiddlers and guitarists on hand as well to lead classes on those instruments and provide support onstage at faculty concerts and demos and at the many jams that run throughout the weekend.  In addition, this year we're excited to offer classes on singing and harmony vocals at several levels.
In 2014, founder Mike Holmes passed ownership and management of both Banjo Camp North and Mandolin Camp North to the enthusiastic and capable hands of Mike Kropp and Richard Pertz, both long-time camp participants.  Mike and Richard have retained Phil Zimmerman as Bluegrass Music Director and have brought BCN/MCN veteran Martin Grosswendt onboard as Associate Director and Old Time Music Director.  The new team is eager to carry on the Music Camps North tradition of stellar instruction and a warm, friendly learning environment in clean, comfortable surroundings.  We think MCN 2015 will be all that and more.
This year we are trying something new.  In order to make the weekend more relaxed for campers and instructors alike and to make the ever-present frustration of over-choice — trying to choose between two or three classes that you feel you really have to take — we will be offering fewer classes in each instruction period.  We'll also cut one class period in the late afternoon to offer more jam sessions and faculty demos.
The Beginner's Track will still offer five sessions over the weekend to give novices and beginners a solid grounding in the basics of the instrument.
Here is the faculty we've assembled for MCN 2015:
Alan Bibey
Mike Compton
Rich DelGrosso
Sharon Gilchrist
Skip Gorman
Lorraine Hammond
Carl Jones
Alan Kaufman
Laurie Lewis
Erynn Marshall
John Rossbach
Tom Rozum
Frank Solivan
Don Stiernberg
David Surette
Roland White
Mandolin Camp North is held at Prindle Pond Conference Center, a comfortable, up-to-date facility in a beautiful, wooded setting in Charlton, Massachusetts. Buildings are heated, so you don't have to worry about our unpredictable New England weather.  Occupancy in the dorms is two to a room.  There are a limited number of single rooms available as well.  Meals at Prindle Pond are a treat; the food is fresh and well-prepared, and there is always a vegetarian option available.  Off-site accommodations are also available in nearby Sturbridge for those who prefer additional privacy or conveniences.
Contact us at:
mandolincampnorth@verizon.net
Phone: 401-487-3536