Banjo Camp North 2015
May 15th, 16th and 17th, 2015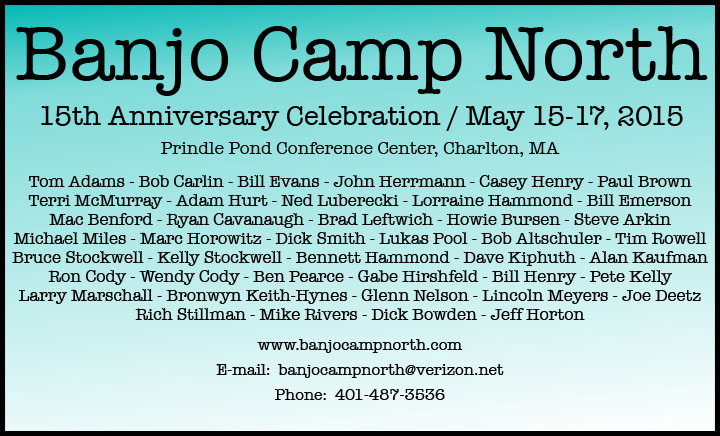 Welcome to the web home of Banjo Camp North!  We're glad you stopped by.  We hope the pages on this site will give you all the information you need to get you to BCN and help you make the most of it while you're there.
Banjo Camp North is a three-day celebration of the five-string banjo, featuring instruction, demonstrations, concerts, and jamming presented by some of the best and best-known banjoists on the planet.  They provide in-depth instruction in Bluegrass, Old Time and Folk styles.  We always have top-flight fiddlers and guitarists on hand as well to lead classes on those instruments and provide support onstage at faculty concerts and demos and at the many jams that run throughout the weekend.  In addition, this year we're excited to offer classes on singing and harmony vocals at several levels.
2015 marks our 15th Anniversary and a new page in the history of the camp.  In 2014, founder Mike Holmes passed ownership and management of both Banjo Camp North and Mandolin Camp North to the enthusiastic and capable hands of Mike Kropp and Richard Pertz, both long-time camp participants.  Mike and Richard have retained Phil Zimmerman as Bluegrass Music Director and have brought BCN/MCN veteran Martin Grosswendt onboard as Associate Director and Old Time Music Director.  The new team is eager to carry on the Music Camps North tradition of stellar instruction and a warm, friendly learning environment in clean, comfortable surroundings.  We think BCN 2015 will be all that and more.
This year we're reworking the schedule to make camp more relaxed and even more enjoyable for campers and instructors alike.  There will still be plenty of high-quality, intensive instruction but we're also making more time for individual mentoring sessions, jamming, workshops and demos.
As always, the Bluegrass and Old Time Beginner's Tracks will offer five sessions over the weekend to give novices and beginners a solid grounding in the basics of each style.
There will also be a great selection of vendors this year, providing everything from picks, capos, straps, and strings to new and vintage instruments — maybe even the banjo of your dreams.  And of course we will have a fully stocked artist's table, selling the staff's CD's, books and videos.
Banjo Camp North is held at Prindle Pond Conference Center, a comfortable, up-to-date facility in a beautiful, wooded setting in Charlton, Massachusetts. Buildings are heated, so you don't have to worry about our unpredictable New England weather.  Occupancy in the dorms is two to a room.  There are a limited number of single rooms available, as well.  Meals at Prindle Pond are a treat; the food is fresh and well-prepared, and there is always a vegetarian option available.  Off-site accommodations are also available in nearby Sturbridge for those who prefer additional privacy or conveniences.
Banjo Camp North will begin with registration at noon on Friday, May 15th, and classes will start at 2:30.  Then it's all things banjo until camp ends at 3:00 PM on Sunday, May 17th.
We hope to see you there!
Mike Kropp, Director
Martin Grosswendt, Associate Director / Old Time Music Director
Phil Zimmerman, Bluegrass Music Director
Bob Altschuler, BG Beginner's Track Coordinator
Tim Rowell, OT Beginner's Track Coordinator
Founded by Mike Holmes, 2001
Contact us at:
info@musiccampsnorth.com
Phone: 401-487-3536